---
Sikkim, Assam, and Meghalaya - A travel experience,
By Sam Oppenheim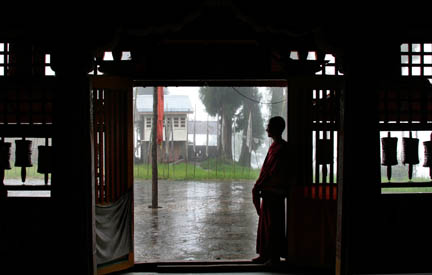 "After all this kind of fanfare, and even more, I came to a point where I needed solitude and just stop the machine of "thinking" and "enjoying" what they call "Living", I just wanted to lie in the grass and look at the clouds." - Jack Kerouac: Lonesome Traveler

1. "Changing Pace"

After 3 years living and working in New York City, I quit my job and moved to India to travel, photograph, and create an artistic book project. Although I could write 40 pages about the first 40 days of travel, I'll be brief and highlight a few peak experiences. While it did not rain every day, the northeastern monsoon did color my whole vacation.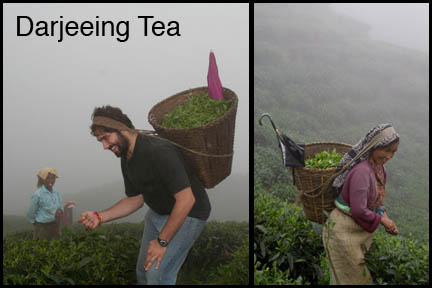 On August 29th I left Malkapur, where I had lived with Shekhar's joint family for two weeks: 9 people in a hundred-year-old home. This is not as claustrophobic as it sounds because space is distributed intelligently. There is a bucket bath shower nook, a toilet room, and we get ready in the main room where the only mirror is located. We sleep in two rooms on bedrolls on the floor, which are put away so that during the day the rooms are shared-use space. It really feels like a home as it is warm, full of love, comfortable, and always serves great food!

36 hours later I disembarked from my train compartment in Calcutta. After buying air tickets, rail reservations, and doing city errands, I treated myself to 5 star dining - Ah, the joys of city life! A further 12-hour train ride took me North into the Himalayan Foothills near Nepal and Bhutan where famous Darjeeling Tea is grown.

Shekhar arranged for me to visit his friend and past student who now manages the "OkayTea" Tea Estate. I toured the factory, which processes fresh-picked leaves for export to Harrod's of London and Japanese clients. Then I watched and participated in manual leaf-picking. I marveled at the size of the operation: 600 hectares owned with 220 Ha under cultivation. One thousand workers and their families make up the population of 6,000 living on site. In fact the estate has its own school! I was able to walk across a small footbridge to Nepal. The property borders Nepal which has a very porous border and we took full advantage of that. My first foray into Nepal lasted only 3 hours - we returned for lunch in India.





Over the next week it rained heavily every single day. And when for a few hours it wasn't rainy, it was still very wet, foggy, and cloudy with low visibility. I passed through Darjeeling - the regional capitol - and into Sikkim which is an Indian state that until 1972 was an independent kingdom like neighboring Nepal and Bhutan.



"The day is dim with rain.
Angry lightning glances through the tattered cloud-veils.
And the forest is like a caged lion shaking its mane in despair.
On such a day amidst the winds beating their wings, let me find my peace in thy presence.
For the sorrowing sky has shadowed my solitude, to deepen the meaning of thy touch about my heart."
-Rabindranath Tagore: Crossing, poem #20

2. Monastic Peace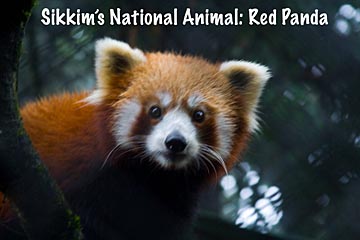 Due to the rain I visited monasteries every day, meditating in prayer halls, watching beautiful pujas, and befriending monks. Because of the rain, I was unable to trek in the Himalayas and see Kachenzonga - India's highest and the world's 3rd highest peak. Despite being unable to trek and camp, I left satisfied to have experienced peace, quiet, beauty, and some of India's most clean, pristine, and eco-friendly sites. This state is quite differently administered than most of India: The Sikkimese government is very progressive, with billboards reminding farmers to grow organic and providing 5% of the annual state budget to forests, environment, and wildlife. In fact, they plan to become a completely 'organic state' by banning all agro-chemicals. Additionally, the schools are mandated to teach environmental education, plastic bags are banned, and a few years ago 6,000 free cooking gas stoves were distributed to the rural population to discourage illegal wood felling for cooking.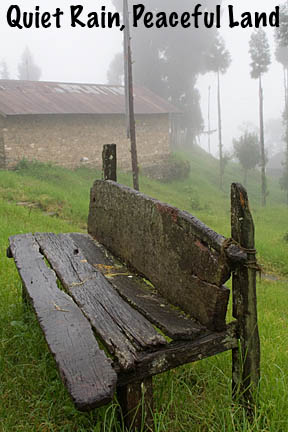 The 3rd monastery I visited may have been my favorite. After hiking one hour through a light drizzle I was let into the Buddhist temple by a young novice monk. The old dark temple smelled of butter candles and musty ancient wood. The floor creaked at every step. In back, the ancient golden Buddha gazed at me. Even in the darkness his face glowed, reflecting a spot of light let in through the one open door. Shadows draped his body and clothed the whole temple interior. The electricity was out and I was grateful for the darkness. Then I sat and closed my eyes for a very peaceful meditation.

Later a different young monk took me to an elder who offered me tea and biscuits, saying that most tourists come only for photos and he doesn't meet with them, but I was different because I meditated. He appreciated my attitude, telling me I must have had good previous births to merit this life.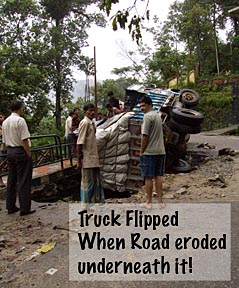 Flattered and blissful, I wandered down a forest path enjoying nature that was punctuated by small hillside family farms and Buddhist stupas. I even encountered a school at recess and played badminton with some high school boys. It was a great day!

Leaving Sikkim was impossible - the rain-fueled landslides blocked all roads. After a few days a route was finally declared passable and I took a circuitous 12 hour jeep trip. Normally the route is a direct 5-hour journey on a national highway, but we took the scenic bypass. Some stretches were so bad we had to walk while the car inched along a falling precipice, the road overhanging a steep eroding decline. The long journey had a silver lining: I befriended a passenger who gave me free passage on a night train when we arrived in New Jalpaigiri. He was a soldier with a national valor award for killing enemy combatants in Kashmir, which grants him and a guest free travel on any train, any time. What perks do U.S. Vets get again?


---

3. Encountering the Sacred Feminine

"A religion without a goddess is halfway to atheism" - Dion Fortune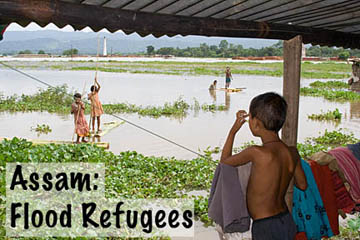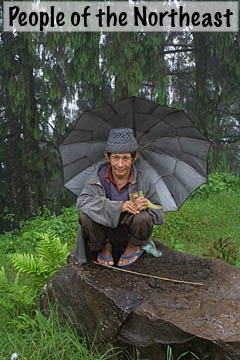 The next morning I was in Assam. Infamous for terrorist separatists, this whole northeastern part of India is barely connected to the mainland by a string of land north of Bangladesh and South of Bhutan. Ecologically East Asian, sections of the population are Buddhist, Animist, and Hindu, and every region is full of various native tribal groups. The population is varied, but interconnected by Hindi-Bengali-related dialects while the predominating facial features are Tibetan, Burmese, and Thai.

The highlight of Assam state for me was two visits to Kamakhya mandir, a devotional center for Shakti goddess worship.

I took a jeep up the hill to the temple complex and bought prashad for the temple pujas - a flower garland, white sugar candies, small ghee lamps, incense, red vermillion powder dye, and a coconut. Leaving my shoes in that store for safekeeping, I walked barefoot past renunciant babas with wild hair and beads, then through the temple area gate. First I propitiated Ganesh, standing ankle-deep in water on the steps into the temple tank. The purohit (priest) chanted Sanskrit shlokas and we repeated after him. Next we got red tilak dots on our foreheads and proceeded to line up for entry into the temple interior.

I had begun to feel very pious and intrigued even before we entered, as it was a special place. Then when we went inside I was taken aback and wanted to sit down and meditate immediately. Simultaneously I became introspective and intellectual and began analyzing why I liked this temple so much more than others.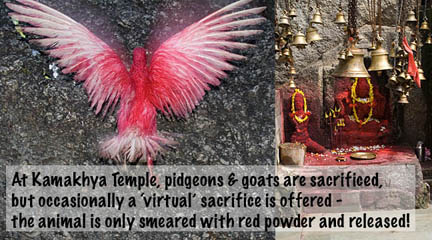 I think that there is a psychological build up towards having a peak experience more when one buys prashad and has to wait in line to go inside a temple. This wait increases expectations. Plus there is an infectious crowd mentality. Once inside the cool air conditioning, dark walls, and bright gold-and-red deity contrast sharply with the outside temperature, humidity, and color scheme. However I cannot completely discount the sixth sense, a certain special spiritual something. The temple just felt GREAT inside. Hallowed ground. Deep.

Inside the cool interior we waited in line for an hour slowly moving forward. My favorite part, however, was not the final vision deep inside the temple, nor the beautiful shrine in the ornate ante-chamber. I felt most moved by a statue whose face is burned into my mind. It had slanted almond eyes, a knowing blissful smile, an intriguing visage emanating pure peace, with hands in prayer toward the central shrine. Photography was prohibited, so I meditated on the darshan (viewing of a god-image) and enjoyed its presence without recording the vision.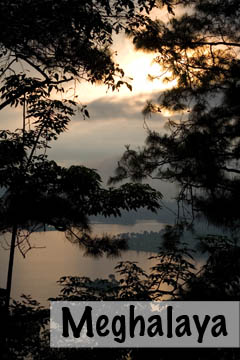 After the ante-chamber waiting area, we passed through two opulent silver doors and reached stairs into the grbha-grha, or inner-womb of the temple. Slowly descending in a line, we left cold air behind and were buffeted by the hot humid sultry air billowing up from the deep candle-lit cavern underneath the temple. Flickering oil lamplight revealed dark walls and a red sheet above a black bulge in the bedrock. The rock-goddess was completely anointed with red vermillion paste and fresh flowers. The darkness and humidity was stifling as I bowed down to the wet underground stream flowing astride the Yoni (rock representing sacred feminine). The priest slapped my back forcefully and said some sacred syllables. As I got up I saw the walls were covered with black-and-yellow banded cockroaches dancing in the flickering flamelight. Blessed among the lowly cockroaches on earth, these are the holy ones and they seem to emanate a comfort never seen in the scurrying pests one finds in one's own home. Their calm undulating antennae seem to entrance, rather than disgust, and remind us that we are in their territory, mere guests.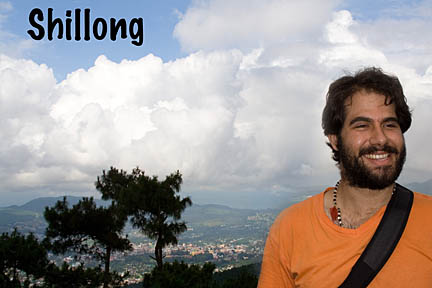 As I left, feeling blessed and calm, I knew I would come back again the next day. I reflected on the fact that a yoni, the sacred feminine in Hinduism, is in fact worship of a stone vagina-form. This is an ancient goddess worship predating the bible and all modern religions, now clothed in Hinduism. The temple visit mirrors this cult of entering the feminine. Through a deep, dark, moist cavern one contacts the sacred goddess by touching a stone vagina and being anointed with flowers and red paste, representative of feminine power and fertility. The red is life's blood and energy passed from mother-goddesses' womb to all of humanity born to her. Visiting this aspect of Shakti, the all-powerful feminine, was spectacular, and I loved it!

From Gawahati, the capital of Assam, I took a share-car to Shillong, the capital of Meghalaya. It is called the "Scotland of the East" for its green hilly beauty, English architecture, and golf course. I actually did not find it as amazing as the drive itself. Of course, this is probably because by luck or providence my driver happened to be an ex-stock car racer. He quit after racing across Asia from Iran to China when his best friend died in an accident, but he still drives more quickly, smoothly, and professionally than anyone else in India.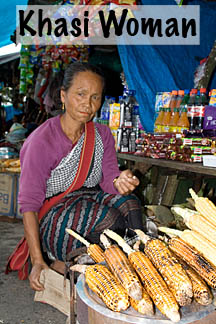 As we skillfully zipped around curves and dodged potholes I stared at the pleasant rolling jungle-green terrain and red-brown earth. Tropical vegetation predominated including bananas, coconuts, and pineapples. The natural scenery was punctuated by tribal homes built on bamboo stilts over roiling sedimentary rivers. The local Khasi tribes are most fascinating because they are a matriarchal group. Confident Khasi women work in the post office and are visible everywhere, chewing and spitting red betel-nut juice, and acting like powerful Indian men. This was a big change from usually shy, reserved, partially dominated and covered up Indian women.

In Shillong I befriended Nir and Efrat, a wonderful Israeli couple on their honeymoon, who agreed to try to visit Arunachal Pradesh with me. Separately we could not have traveled there, so it was fortuitous that we, the only foreign tourists in town during the off-season, were in the same hotel and had similar travel plans. Permits for this border-region-state are strictly controlled and only available for groups of 4 or more foreigners. Despite rain, power failures, and bad phone connections, we managed to fax copies of our passports to an agent who promised to cut through some of the red tape and make permits. ----END PART ONE----

"Though we travel the world to find the beautiful we must carry it within us or we find it not" -Ralph W. Emmerson
---