---
A travel experience,
By Sam Oppenheim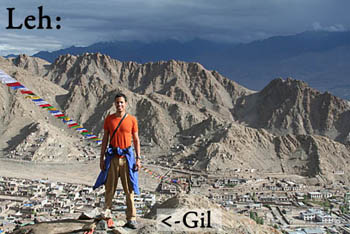 "In a hundred ages I could not tell thee of the glories of the Himalaya. As the dew is dried by the morning sun, so are the sins of mankind by the sight of the Himalaya." - Skanda Purana

1. "Getting to The Top of The World"

This August I went with my soul brother Shekhar to Ladakh. This is a region, ecologically and culturally contiguous with Tibet, but unaffected by the Chinese occupation and destruction of Tibetan Buddhism. We booked a flight to Leh, the regional capital city in Ladakh, one of the world's highest elevation airports at 3400 meters or 14,000 feet, or 2.5 miles high.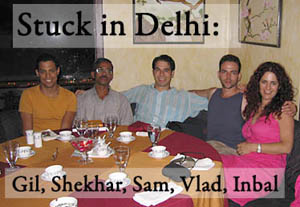 We left Shekhar's welcoming, hospitable family, friends, and hometown in Central India and flew to Delhi, arriving slightly late at 11pm. Then we slept on public airport seats until 4 am and checked in for our 6am flight to Leh, which was delayed again, and again, and again. Eventually we were eating a free 'breakfast' at noon, our flight so delayed because of snow and rain in Leh. Then Jet Airways, the best Airline in India and one of the most courteous and professional in the world, put us all up in a 4-star hotel in Delhi with free meals. Shekhar was giddy with excitement, having never stayed in such a place. Then, by virtue of this 'borrowed day' in between home and vacation, we befriended a number of fellow passengers. Most notably, Gil, Inbal, Vlad, and Nina, two Israelis, a young 25-year-old Russian-cum-American full-fledged-professor at Stanford, and a Dutch student (respectively).

2. "Stranded in a Desert Island in the Clouds"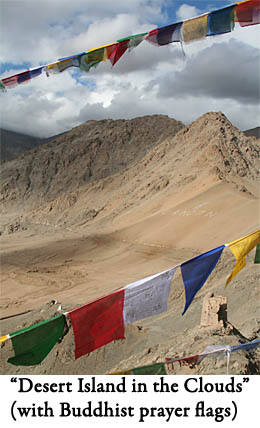 We finally flew into Leh 33 hours late. As we approached, we ducked down through the clouds and saw sharp, young, amazing Himalayan mountaintops, close enough to destroy our toy airplane if the pilot made the slightest miscalculation.

We landed in the desert, complete with sand dunes. Leh is a Y-shaped valley adjoining the Indus river valley. Here the Indus flows East to West across the Himalayas before joining forces with hundreds of streams and rivers and pouring through Pakistan down into the Arabian Sea with the strength to repel Alexander the Great. The left side of the Leh valley is lush and green, blooming in the desert with a stream and irrigation channels, whereas the right branch is desiccated and topped by abandoned Buddhist palaces. Every mountain spawns huge sand dunes on its flank. The scenery is stunning.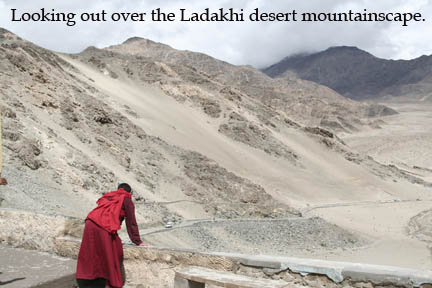 After we arrived more rains came every day and we seldom saw the mountain peaks. They were always shrouded in clouds even when blue skies prevailed directly overhead. Really heavy monsoon rains had never before been seen in Leh. The whole Ladakh region was unprepared. The rains caused so much destruction because both the road and architecture here are built on the ecological presumption that it is in fact a desert with almost no annual rain to cause erosion.

We soon found out that 5 bridges were washed out locally, including one between our hotel and central Leh town. Indeed, all roads in and out of the district were closed. Even most trekking routes were off limits because of landslides. We were stranded in a "desert island in the clouds". Each day we hoped for clear skies, but had to wear sunblock even if it was overcast because we were 3400 meters high. Even if the sky was clear one hour, it was incredible how quickly weather changed at these high altitudes. It might go from wet to dry, cold to hot, and overcast to sunny, then back again in the space of one hour. Our bodies didn't mind being stuck here, however, because we needed time to adjust to the high altitude.

"Your friend is your needs answered. He is your field which you sow with love and reap with thanksgiving. ...you come to him with your hunger, and you seek him for peace. And let there be no purpose in friendship save the deepening of the spirit." -Kahlil Gibran



3. "Buddhist Paradise"

That's not to say it wasn't a nice vacation. We ate well and trekked up to the local abandoned palace and active Buddhist Stupas and temples. One nice day we even hired a car and driver to tour the local Gompas, or Buddhist Monasteries. We were blessed by both visiting one of the Dalai Lama's peaceful homes and seeing an amazing rainbow. I still can't believe how all the structures are built on the mountain side, just hanging on, what incredible Tibetan architecture! Then, before I knew it August 8th had arrived and I passed from 26 to 27 years old.

Shekhar and my kind new friends surprised me with candles and locally baked sweets, while happy birthday was sung to me in English, Hebrew, Dutch, Portuguese, and Hindi! Then we took a car to where one of the bridges was out and under construction, crossed on foot, and arranged for another car on the other side.

We visited Alchi andLikir, two more Monasteries. It was a beautiful day to enjoy the Buddhist Paradise that is Ladakh. Shekhar and I meditated in a 1000 year old Buddhist Temple with stunning ancient wall paintings, showing 1000 Buddhas, each the size of the palm of your hand, all in unique poses, with different mudras, or hand signs, and various colors.

Enroute to Likir Monastery we picked up a hitchhiking monk. This proved fortuitous for both of us because he then showed us around the monastery including a museum and his own room for tea and biscuits. The highlight of my birthday however, was when we were ushered into the inner sanctum of the monastery temple to see the monks completing a sand mandala.

Now, if you have seen Kundun, Seven Years in Tibet, or any decent Buddhism documentary you know what I refer to: The painstaking artistic religious tradition of building a rather large (say, 4 or 5 feet in diameter) square or circular three-dimensional painting made entirely with colored grains of sand! The four monks each take a quadrant and fill a hollow tube with sand, then tap, tap, tap it over the spot they want to deposit color. After five or six days of work the mandala is usually complete. We arrived on the evening of the 5th day and it was stunning to see it nearing completion and being worked on. Wow! It was such a magical experience, our eyes feasted on such details and beauty in the sand. This was so majestic to watch, study, and examine. It was an unforgettable birthday.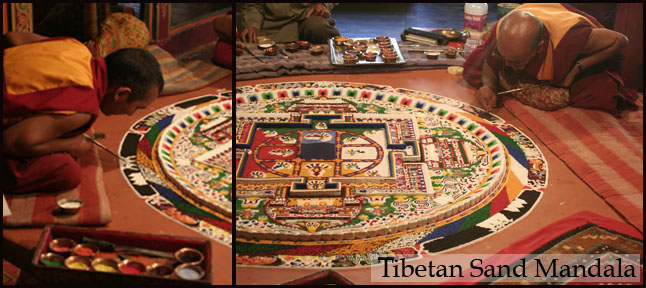 "Old friends pass away, new friends appear. It is just like the days. An old day passes, a new day arrives. The important thing is to make it meaningful: a meaningful friend - or a meaningful day." - H. H. The Dalai Lama

4. "Changing of the Guard"

Saying goodbye to Inbal and Nina was nearly tearful, there was a hole in my heart and I missed them both dearly despite knowing them for such a short while. But on my birthday 3 new Israelis arrived: Chen, Merav, and Eliya. Gil knew Merav from Israel and the rest met each other enroute. Although Shekhar and I barely knew them, we were close with Gil and they seemed cool, so, since we could not easily hike alone (They wouldn't hire a guide and porter to only 2 people,) we threw our lot in with them and mounted an expedition.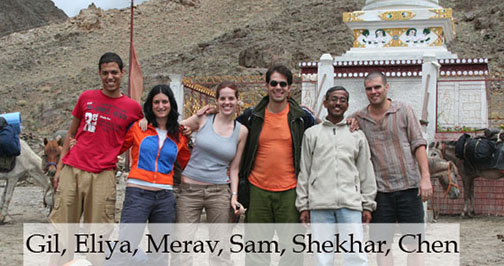 On August 9th and 10th we arranged for horses, a cook, and a guide and bought supplies. On the 11th we left Leh and picked up the retinue of 7 horses, a cook, a guide, and a pony boy named Karma. We got a late and dreary start because of the rain, and at Sabu Phu the ominous return of a group that had left the day before and was now quitting their hike reminded us that conditions may be difficult enough that we might not make it.

Of course, trekking on day one is always the hardest, bodies unused to walking all day, but the body and mind feel great with the nice vigorous exercise. I was so alive, breathing Himalayan air and walking for hours just rejuvenates me completely.

Unfortunately rain dampened our spirits (and clothes) sometimes, and just when we set up our camp tent after 5 hours of trekking a huge hailstorm hit. So this is why it is so nice to have a guide and cook, I thought, as we drank hot chai in the cooking tent and warmed ourselves. Dinner later was yummy. I have never eaten so well while trekking and wondered if I would lose weight at all! There is a trade off between doing it alone, the pride and joy of hard work and self-sufficiency, versus the camaraderie and successes of a group expedition.

"My father considered a walk among the mountains as the equivalent of churchgoing." -Aldous Huxley

5. "Trekking Over the Pass"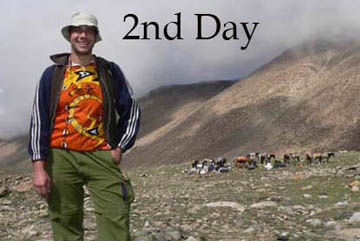 You may recall one of my favorite activities in India is trekking. What you may not recall is that Shekhar is a father of two, 45 years old, and in 4 years of trekking neither of us had ever spent the night above the "tree line" at 4000 meters. Above this line nothing taller than a child grows, let alone in Ladakh, the desert where very little grows at all. We spent this first night at 4300 meters (14,000 feet), 1000 meters higher than Leh. After sunset the chill alone is enough to drive one into the fetal position while fully clothed inside a sleeping bag. Then the low oxygen level makes for headaches, sleep apnea, nausea, and worse. Interestingly, 'altitude sickness' as it is called, affects everyone differently and does not directly correspond to age, weight, or general health.



Needless to say it was a rough night. The next day some of us wanted to turn back and few wanted to push on over the 5400 high pass. So we compromised, hiking only one hour and a half to camp for one more night at 4700 meters and see if our bodies could adjust to the altitude.

The highlight of this second day was either crossing the freezing river barefoot with shoes around our neck, or relaxing for 5 hours in the sun, reading, playing hearts, and sleeping during the nice day. The thing was, when the sun hid behind a cloud and the wind picked up it chilled us to the bone - a harbinger of the night to come. Without sun 4700 meters is tortuously cold. As I lay in my tent that night, shivering cold and holding my high altitude-headache-ridden-head, thundering hooves shook my tent. I opened the flap and peeked outside with my flashlight, Yaks and oxen had invaded our camp and the guide and pony boy were chasing them back to the wilds. I was a little afraid of them crashing into my tent, but stayed inside and eventually slept.



The next day we decided to try for the pass to the Nubra Valley. The weather was overcast, and an ox sniffing my sleeping bag took it with his horns when I chased him, but I got it back. With these omens we left at 9:15am criss-crossing a boulder-strewn stream anointed with violet flowers and high-altitude daisies, slowly but surely gaining altitude.

When we arrived at the base of the steep black sharp mountain our hearts filled with awe. The path up to the pass was all snow and rock, clinging to the mountain in an endless series of switchbacks. We climbed these very slowly to the top. Shekhar was uncertain he could make it and I egged him on every step of the way until at the top we hugged like we hadn't seen each other in years.

The views from the top were stunning, light snowfall notwithstanding. The summit pass is marked with hundreds of multicolored Buddhist prayer flags and I had views in both directions of each valley. Even the Leh valley was visible in the distance, over a mountain ridge, as was our campsite from the night before. The new valley before us looked like a sugar bowl, I saw the path below me and a huge arc of the mountain ridge, like a cul-de-sac, holding a blanket of white. Gil and Eliya, slightly more aggressive hikers, were below, already over the pass, while Merav and Chen were behind with the guide making their way up the switchbacks. Shekhar, clad in a lilac rain slicker made quite a spectacle, like a pink ghost, as he descended and I meditated alone on the cold snowy summit.



I don't know if it was the cold, the snow, or a 6th sense that stirred me, but I couldn't meditate long and opened my eyes to see a tiny mouse climbing near my bag. Earlier when I slept in a train station a mouse ate a hole in my bag to enjoy some temple prashad (holy sweets), so I eyed this one warily but he just ducked back into a crevasse and wandered around peeking out now and again in different parts of his bundle of rocks.

I watched the landscape, not amazed by the big things, the sun, clouds, snow, mountains, nor the fact that I was the highest up I might ever climb in my life, breathing air so thin my body had to produce extra blood cells, my lungs expand capillaries, and my heart beat faster 24 hours a day to compensate. Rather, I was stunned by the signs of life. A mouse, surely this month he can scavenge hikers' discards and horse droppings, but what does he do during the winter? Mice don't hibernate do they? And then I realized Shekhar had no water bottle with him and I could barely see his lilac outline in the distant valley below.

---
PART II
---

"Climb the mountains and get their good tidings. Nature's peace will flow into you as sunshine flows into trees. The winds will blow their own freshness into you, and the storms their energy, while cares will drop off like autumn leaves." -John Muir

6. "Hail Bunnies and Marmots"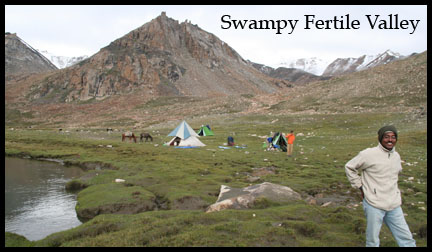 As I descended I passed a dead horse frozen upside down, a grim reminder of the seriousness of this environment. Recklessly nonetheless, I hopped, skipped, jumped, and generally scrambled very quickly down the mountain to catch up with Shekhar who waited, glad to see me. Unfortunately, not long after I shared my water with him the gentle snow turned to hail, and an hour later when we caught up to Gil and Eliya it really hit HARD! As we climbed lower and lower in the new river valley it got wetter and wetter. To make things worse my left foot fell in the river when crossing. Nonetheless, we made it back to camp for warmth and chai. I took off my boots and my socks steamed off a foul odor, as my body heat reclaimed my extremities and the river water evaporated.

The strangest part of that day's hike had to be the last 30 minutes. Usually the hike after a mountain pass would be lackluster, but here we walked over what looked and felt like a scene from the set of the Lord of the Rings movie. We walked through a swampy boggy land filled with beautiful stands of squishy green earth that contrasted with standing water in amorphous puddles. If it were a movie the puddles would have held dead bodies and ghosts, but ours simply held floating hailstones. The land underfoot, however, gave eerily with our weight as we walked, like a soggy mattress. Masses of grass and roots and mud all moved underneath each step and the hail bounced like tiny rabbits, starting out white, then turning grey after two bounces, and eventually clear, then melting away.

The terrain in the Himalayas is stunning. The next day was no exception. As I surveyed the valley from my tent-on-a-hill I relished the view of sharp valley sides, cliffs and clouds, grass and a slow moving river. I breathed in the mountain air, and felt so well rested. The smells of nature infused every crease in my body, mind, clothes, and hair. Although my morning constitutional was interrupted by the cook offering me chai while I squatted, "Hello! I'll come down and get it later, mister!" It was a peaceful morning.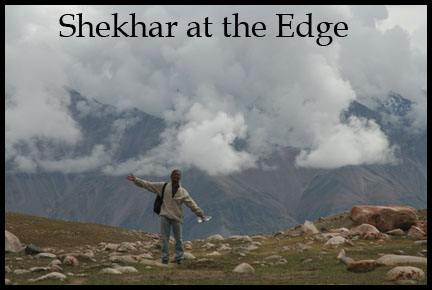 As we ate breakfast of butter, jam, and chapattis (flat unleavened pita-like bread), a white bull with big horns crossed the river and grazed nearby. As we packed up to walk downhill all day, we all recalled how crystal-clear and gorgeous the night sky had been the night before. The whole Milky Way was visible and every star shone with pinpoint sharpness. We were not just bystanders viewing them; we were visitors actually inside the heavens. As usual, if felt so wonderful to be trekking.

This 4th day of hiking was uneventful. We saw more marmots, furry cute large rodents, reminiscent of mutant prairie dogs. My favorite part of the walk was a 30-minute walking meditation. I was lulled into thoughtfulness and silence while walking, then I used my mantra as I stepped quietly ahead along a bubbling stream, far behind my companions. When they stopped to rest and drink water I dropped into a deep meditation on a rock 50 feet from them. In blissful silence and light I rested until awakened by a stranger who said "Wake up, your friends have gone." I cannot remember if he said this in Hindi or English, but I had to start walking again. We were very near the village of Diggar, and met villagers enroute including an old woman shoveling stones. It was an amazing landscape sculpted by man eking out a living in the mountain desert.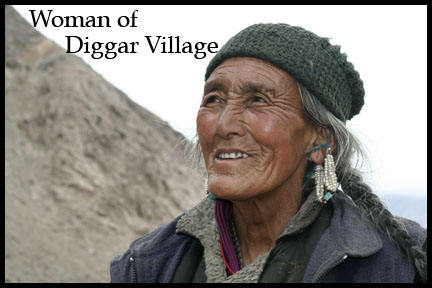 The village bloomed lush green along the rough escarpment. Cliffs, ravines, waterfalls, rapids, stone walls, aqueducts, reservoirs, corrals, stupas, and mani walls all worked together to delineate nature from artifice, bring mountain water into town, and mark fields. The stone walls were beautifully built but so precarious and thin- you can see through them, as they are only one stone thick and balanced with space between stones. I was also in awe at how the villagers' fresh water supply flows through the village like a lifeline, even under walls, through windows and chutes. The whole village is an engineering marvel, not to mention the oddly affixed solar panels on every roof, apparently provided by the government.

"There is nothing like walking to get the feel of a country. A fine landscape is like a piece of music; it must be taken at the right tempo. Even a bicycle goes too fast." -Paul Scott Mowrer, The House of Europe

7. "Wonders Never Cease"



Wonders never cease in the Himalayas. The biggest thrill of the trek was the pass summit, but still more surprises and adventures awaited us. The first surprise came at camp in Diggar on our 4th night camping. That night 10 Russians showed up on bicycle. They had crossed the same pass as us by carrying their bikes up one day and sleeping below, then carrying equipment up to the summit the next day and loading it on the bikes to ride down. Now that's what I call mountain biking. Wow!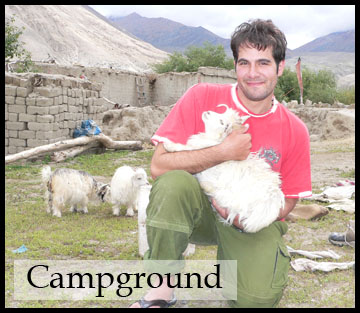 The next day was a long haul. We hiked almost 20 kilometers! (12 miles). First we left the village and terraced fields of green to walk along a stark barren plateau. The scrubland desert was filled with brownish-grey sand and smooth stones scattered liberally. When we reached the rim an hour or two later we descended into the deep river valley canyon. Halfway down we reached one of the ubiquitous mountainside sand dunes. This beautiful soft grey silty-sand embraced our feet as we stepped in it; the sand cradled and accepted our shoes like a soft down pillow takes a head. Looking below we enjoyed the vista of a snaking grayish river in a rocky wasteland, and a slew of tracks leading down the sand dune.

I began to descend rapidly, trailblazing in earnest and with much joy, even whooping out loud! I was going straight down a huge sand dune, sometimes going left and right like a downhill skier. Wow! It was so much fun - one of the best parts of the whole hike - an incredibly fulfilling activity, like an amusement park ride only better.

At the bottom was another desert plain, and alongside our path came the Russian cyclists who had come along a different route. Ahead we saw a paved road, and most of the rest of our hike was along this road, which alternated between dirt and paved, sometimes cut into the side of the rocky cliff alongside the Shyok River. Here the craggy mountain, eroding slowly, was so majestic in color, shape, and sharpness. It was a lovely walking companion. Gil, ever obsessed with the perfect coffee spot and pissing ledge, stopped here and happily peed into the river below, declaring his mission to the Himalayas complete.

After crossing a landslide area where it seemed the roadbuilders just gave up and handed nature her victory, we came to an oasis of trees in the desert. The strange sandy paradise was clearly man-made, but I blinked a few times wondering if it were a mirage before shouting "This is where we'll have lunch."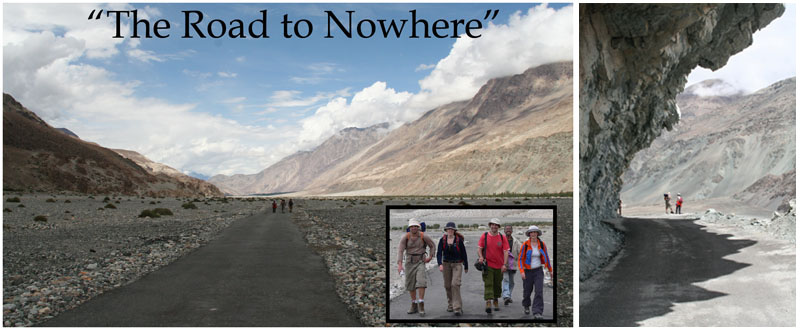 After lunch we walked for two hours on the "Road to nowhere" (cue Talking Heads music). Merav and I walked side by side, steps matching the beat of our music, as we shared my ipod singing along to Pearl Jam and The Counting Crows, while Gil, Chen, and Eliya walked ahead of us on a newly paved perfectly straight single-lane black road stretching into the distant horizon.

The road, cut through rocks and fine sand, (a fossil riverbed), was the most monotonous journey. However, as we set up the tents to camp that night on an idyllic dusty plain beside a waterfall, I reflected that never in my life had I crossed so many varieties of terrain in one 24-hour period. Our voyage took us from swamp and hail to terraced mountain fields and over 5 varieties of desert and scrubland including a sand dune. We were even blessed with a light rain and consequent rainbow just before dusk on our last night camping. The air smelled dry but clean and crisp. Meanwhile, the sound of the rushing waterfall was a reminder to enjoy and relax because soon we would return to society.

"How can you explain that you need to know that the trees are still there, and the hills and the sky? Anyone knows they are. How can you say it is time your pulse responded to another rhythm, the rhythm of the day and the season instead of the hour and the minute? No, you cannot explain. So you walk." -Author unknown, from New York Times editorial, "The Walk," 25 October 1967

8. "A River Runs Through It"

Today started normally enough, up at 6am packed and trekking by 7:30, but somehow halfway to Rong the guide left us because the horses were going the wrong way (unintended pun, I assure you). My main question was, "how can they go the wrong way?" We are following a river downstream to a village visible in the distance on a paved road? Then when we got to Rong we were told to ford the mighty local River.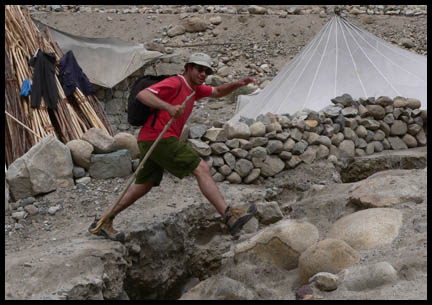 Crossing the river was a task we had been warned about and knew could be arduous and dangerous. The road was completely washed out, and the snaking waters had devastated the whole valley. Trees were upturned and it smelled vaguely of dead fish where we stopped, sitting on drying mud and round river rocks waiting for instructions on how and where to cross.

When the guide whistled across the river and received a whistle back, apparently this was communication enough to convince him we should cross there. Then he left us to find the horse train, presumably to ensure our luggage and his horses survived their crossing. He left us with Karma, the 20-year-old hired hand, to help us cross.

At first we followed 20 schoolchildren whose school was beginning again after an impromptu local 15-day holiday because of the emergency weather conditions, landslides, flooding, and busted bridges. The children, however, continued up a hill and we went straight across the river at a wide point wading through streamlets at the edge of the main river. Fording it barefoot, fighting the strong current, we wondered if the children didn't know a better way? Still we are not 3 feet tall so surely we could handle the river, right?

As we approached the main body of the raging river we all had second thoughts. Stepping on odd stones in frothy 2-3 foot deep water while barefoot is a great challenge, but when failure means destruction of our digital cameras, ipods, and possibly bodily harm, apprehension was very high. I jumped into the mass of deadwoods and got 4 or 5 nice walking sticks and offered them to the others. After all, a stick helps balance by giving an extra source of support and advises the user as to the river depth before taking the next step.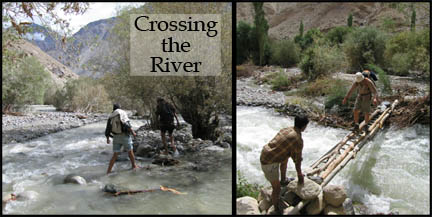 Cautiously, we made it across a knee-deep section of fast frothy current by holding hands and moving slowly. But then we were all quite cold and wet, stranded on an island made of a broken section of paved road in the middle of the river. Looking to the next section of water, waist deep and very fast, we wondered how to cross. Then the guide showed up back where we came from and signaled for us to come back and cross at a different place.

Needless to say, the women were livid and the men ready to throw our guide into the river for his miscalculation sending us across the river with little Karma. Angry and wet, we crossed the way the schoolchildren and locals do: hiking upstream 1 kilometer along a hill ridge and then crossing where it is easy including one narrow deep roaring channel surmounted by a makeshift bridge using a standard aluminum ladder for strength, stability, and footholds.

The schoolchildren piled onto one bus, overflowing with uniforms and faces. At least 30 children were on the rooftop and some were hanging off the back. Meanwhile, we walked again, about 8 more kilometers on an uphill road cut into the mountainside to reach the nearest town that had jeeps waiting. We completed about 90 kilometers in 6 days, and we were exhausted, strangely affected by walking on paved roads for two days through otherwise-wilderness to get a ride home. Yet, when we finally made it to Khalsar, we sat on our luggage for 45 minutes, pretending to not be in a hurry, arguing over the fare back to Leh with the only driver willing to drive us.



"The longest journey begins with a single step, not with a turn of the ignition key." -Edward Abbey

9. "Getting Home"

The ride back to Delhi took 5 days. First we piled 6 into a Jeep from Khalsar to Leh and traveled over the awesomely beautiful Himalayas along the world's highest motorable road. Getting to the 18,380-foot high pass, however, was quite difficult. The road was closed from a flipped truck, so our jeep took a steep dirt road bypass, and we had to get out and push the car! The jeep was climbing slowly, fighting for grip up the dirt hill, while we walked. The guide and I heard a vehicle making good progress, and grabbed onto the back of a moving truck. I hung on for dear life as it climbed the steep dirt road in low gear, never imagining I'd pull a stunt like that, but it was so much fun!



Later, back in the Jeep on the main road, we finally approached the high pass itself. At that height both the road and the mountain were ephemeral. The road was pockmarked with potholes and gravelly spills as the mountain eroded down on the road as we drove, rocks tumbling down, water cascading over the path, and sections clearly often renovated by heavy machinery. What an engineering feat! 30 kilometers of switchbacks on either side of this highest motor-road mountain-pass: any other industrialized nation would have just built a tunnel through it instead of a road over it!

According to Gil, a trek is not over until you take your shower. Unfortunately arrival in Leh meant once again sitting on our luggage pretending to not be in a hurry, because our hotel did not keep our reservation. However, when we finally left Leh 36 hours later we had cleaned up and relaxed, and I even had a massage! We would need another shower, however after our two-day Jeep journey out of the region.

"You can't see anything from a car; you've got to get out of the goddamn contraption and walk, better yet crawl, on hands and knees, over the sandstone and through the thornbrush and cactus. When traces of blood begin to mark your trail, you'll see something, maybe." -Edward Abbey

10. "Tour in a Tin Can"

The two-day car journey from Leh down to Manali is unequalled anywhere in the world. The views amazingly gorgeous, and the road conditions abysmally demonic. We felt like sardines in a tin sent down the Colorado River crammed together, jumbled, tumbled, and bounced around amid such beauty outside our capsule.

First we crossed the Indus River three times on detours, then climbed for 2 hours over our first mountain pass. 5 pee breaks later we were in a long dusty windswept desert plain carved long ago by glaciers. Unfortunately the road was laid over a sinkhole, and we had to detour frequently over soggy muddy immensely pockmarked trackworn dirt paths, occasionally requiring getting-out-and-pushing.

This became the leitmotif of our car travel: rough roads occasionally nearly impassable due to river flooding. Every 4 hours or so we would get out, pushing the car slowly measured our progress, and allowed us to stretch our legs.

The valleys changed from brownish with green scrubland to amazingly carved red rocks, reminiscent of Arizona and Utah. Canyonlands, waterfalls, and stunning aquamarine alpine streams punctuated by mountain vistas surmounted with ice packs accompanied the simple road. As the sun set on the first day of driving all was beautiful, we had even almost gotten used to the pain of riding in a car for 12 hours straight. By 2 A.M. we finally reached a hotel after 17 hours of hard travel. Our day included approximately 2 chai breaks, 28 pee breaks, 1 food stop, 4 push-the-car breaks, 37-odd bridges, 3 mountain passes, and 157 switchbacks.

I hit the $7-a-nite hotel bed in Keylong seconds after locking the door and slept like an exhausted, sore, bumped-around, worn out old log until awoken to climb into the sardine can again. Who knew being a passenger could be so exhausting?



As we left I thought, "How bad could 110 more kilometers be?" Somehow we only average 20K-an-hour, and all the waterfalls and rainbows that made it bearable still passed slowly. Once we stopped moving, however, it no longer mattered, we had arrived in Manali, the beautiful lush green valley known as the 'Amsterdam of India" for its abundance of high quality hash and weed.

Manali reminded me strangely of Ithaca, New York in spring: rainfall, waterfalls, deep black rock-cut gorges, and verdant green everywhere. A thriving forest with an ugly hippy-tourist-choked city in its center. Two days later we left, Shekhar and I saying sad goodbyes to Gil, Chen, Eliya, and Merav who had become close friends after so many adventures together. My last memory of us as a group will always be singing along to Shakira's pop song "Hips Don't Lie" and Gwen Stephanie's "Holla Back Girl" while eating dessert in a Tibetan restaurant in Manali while patrons behind us publicly smoked illegal charas in a chillum. Charas is a black resin hand-made hash-weed compound, usually smoked in a chillum, or hollow tube pipe. It seems so surreal looking back now.

"Two wrongs don't make a right, but three lefts do." -Jason Love

11. "Whirlwind of Insanity"

The last 5 days in India were a whirlwind of insanity: insanely good conversation with insanely good people, insanely hot - hot springs we could barely dip into, insanely funny rides on yaks, and the ultimate insanity of a 17 hour ride in a "sleeper coach" bus. When Shekhar and I left Manali we shared a 'bunk' where we could lie horizontal side by side, but with no seatbelts and fast turns on curvy mountain roads we sloshed around and slept very little.

The funniest part of the nighttime bus journey to Delhi, however, wasn't the flat tire or cramped conditions, but our Korean companions who giggled at everything and the impromptu karaoke session I inspired with my ipod broadcast through portable speakers. When ten or more passengers of a half-dozen nationalities were singing "Maiii-a-heee, Maiii-a-hooo", the chorus to a Romanian pop song by O-Zone, as we rumble-tumbled down the Kullu Valley, I knew I was living in an insane but lovely alternate reality.

Delhi was no less insane. First, a monk I spoke to briefly in a temple followed me outside and asked for money, then for gay sex. Next, when relaxing after running errands, I ran into the Spaniards who trekked over the pass the day before us in Ladakh. They were enjoying coffee at the same coffeeshop I settled into in Connaught Place, the open air circular coliseum-style high-class shopping mall in New Delhi. Finally, I sadly said goodbye to Shekhar as I mentally prepared myself for the paradigm shift of returning stateside.

"If you are seeking creative ideas, go out walking. Angels whisper to a man when he goes for a walk." -Raymond Inmon
---