---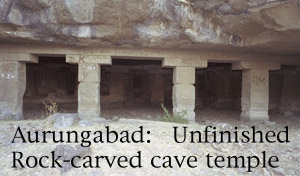 The same day I arrived, threw colored water for Holi, and nearly ruined my passport, I went to the Aurungabad caves. These are a small set of Buddhist caves carved into a mountain with some nice decorations and Buddha statues carved into each cave, usually in the rear recess. I enjoyed these and then began to explore further along the mountain. I ended up on a pinnacle a kilometer away at a small Shiva shrine, and from that angle I saw a distant cave, around the back of the mountain. Not one to leave a discovery unexplored, I hiked over there and with flashlight in hand 'discovered' an unfinished Buddhist cave. It had been 'discovered' by many others, some who put graffiti on the cave to show their presence.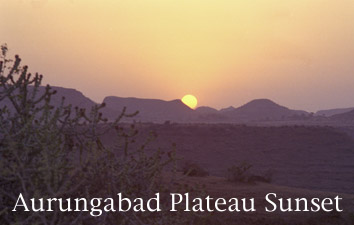 Searching for a 'short-cut' back, as I had gone far from my starting point, I climbed straight up to the summit of the 'mountain'. But I discovered it was a huge plateau, with a beautiful sunset behind it and finished my film before following some stray cattle as darkness swept across the land.

Finally I found where I was supposed to be, 300 feet straight down 4 gentlemen where chit-chatting at the entrance to a cave. I asked them how to get down and they said: "jump", but when asked a second time they recommended the right hand path, which allowed me to descend safely, carefully scrambling down to their level. Then they offered me a ride on their motorcycles, for which I was grateful as it saved me a long walk of 3 kilometers back to the city. Since they saved me this walk, I walked through the whole city home, enjoying the scenery and people.


---


The next day I spent the whole day at the Ajanta caves: a world famous location which consists of a horseshoe shaped canyon and arrayed around the curve are a magnificent set of 30-odd Buddhist caves. The caves were rediscovered by a British hunting party when their tiger 'disappeared'. Inside are preserved 'frescoes' of painted Buddhist devotional scenes created with natural mineral paints over a thousand years ago! In addition to paintings, each cave is a monumental architectural beauty, with carved pillars and a Buddha figure surmounted by angels & guarded by bodhisattvas. These caves were magnificent! I was truly impressed and pleased to visit them for hours.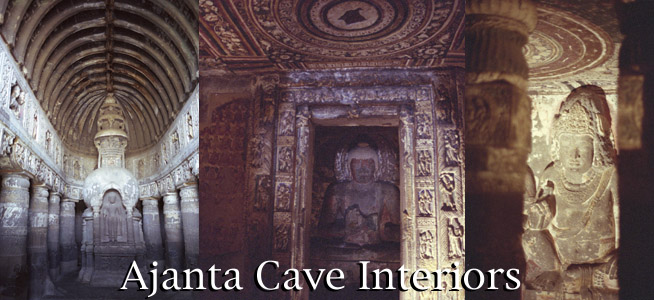 Finally near the end I ran into a group that shouted "SHYAM!", I recognized a large family but couldn't remember from where I knew them. They were from my rail car from Bhopal to Nasik!! I finished my visit with them, and instead of having to take a bus back I got to ride in their car with their sons and daughters in the back compartment. It was fun and I really enjoyed their company and friendship. We had a good time together and they invited me to their house near Delhi the next time I come there. (edit: I still occasionally email their daughter).

My final day in Maharashtra (the state in India which has Bombay and borders the south of Madhya Pradesh). I went to Ellora in the early morning by my own private rickshaw I rented for the day (all day, 60 kilometers give or take, $6-8 US and that's EXPENSIVE in India). Ellora is a cave complex (I know, enough caves already) but it out did all the others! It blew me completely away, I thought I would race through it, as I had 'seen it all' already, but boy was I wrong.


---


Firstly, here there are Jain Caves, Hindu Caves, and Buddhist Caves. Secondly, they have been venerated continuously since construction, and not 're-discovered'. Finally, there are multiple-story and humongous cave complexes. From the Buddhist section, their crowning accomplishment is a 3-story solid-rock carved cave. I thoroughly enjoyed it and its bats as I meditated there for an hour, and explored every facet.

After finishing my tour of the Buddhist section, I went to the Hindu side where I ran into a friendly guide I had met yesterday and who speaks English, Japanese, Spanish, and many Indian languages. Then while exploring I met a nice family of 3, parents and an only daughter, who I later discovered are Jains and with them I visited many of the Hindu Caves and the Jain ones which were also highly decorative, detailed, beautiful works of art. Really I cannot impress enough upon everyone reading this, that this place, Ellora, is a *MUST* see in India. The main attraction I will now examine: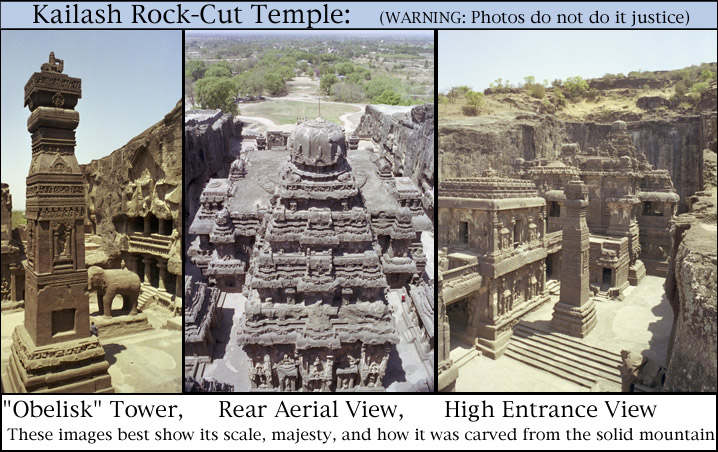 Mount Kailash Temple: The world's largest monolithic monument (mono-lith = one-stone). It is a three-to-five story temple, over a football field in size on a ground plan, carved out of a single mountain! You approach it and cannot appreciate that it is all one work, accomplished by hard devotional labor over 150 years or more by perhaps 7,000 men in 8 generations!! It has huge Shiva lingas inside its main hall, and decorative life-size friezes around its entire ground plan of gods in action; battling, loving, impressing, and flexing their might. I thought this topped the Taj Mahal as did my new friends, and what's more, we think it is the 8th wonder of the world!
---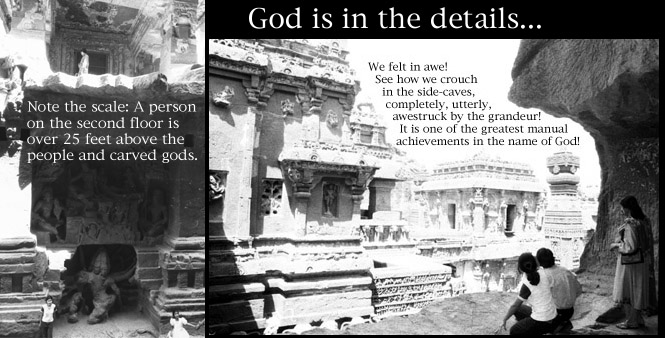 That evening after taking my new friends (thats 4 people total) cramped into a rickshaw (thats a motorcycle front with a back bench seat for 2-3 people) back to Aurungabad, I flew to Delhi, my flight was delayed an hour, and I raced to make my connecting overnight train to the Himalayan foothills, I made it by just 3 minutes, and slept soundly that night. The next day I was to journey to Baba Kalyandasji's Ashram near Almora and Nainital in the Eastern corner of India's Western-Himalaya s, or near the South-West corner of Nepal... But that's another story.
---