---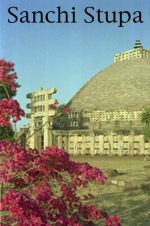 After my last message I was in Ahmedabad, in Gujarat, the state currently plagued with violent riots and evening curfews in effect. I felt safe, yet I had to cancel further travels. My driver was afraid that Muslims in small towns might torch his car. Therefore, I cancelled my travel plans and instead went to Ahmedabad airport and flew to Bhopal, in Madhya Pradesh(state). Before I left Gujarat, however, I had the best type of meal in all of India: "Gujarati Thali" This is all-you-can-eat style, served by a number of waiters who continually fill your array of small metal bowls with any variety of delicious vegetarian dishes. I hope I can find more Gujarati Thali restaurants even outside of Gujarat.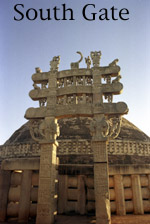 Once in Bhopal, I went to Sanchi, where the world famous Buddhist stupa is. That evening I rented a bicycle and rode around the stupa hill, then climbed up to the ruins of many Buddhist monasteries and the partially reconstructed stupa with 4 beautiful decorated gates in each cardinal direction. I saw this all at sunset and took many photos which I hope show how beautiful the location was. As my trip progresses, spring blooms many rich flowers at many of the sights I have visited. I begin to wonder how India looks after the monsoon when waterfalls freely flow, and all is green and in bloom. India has six seasons: Winter, Spring, Summer, Monsoon, Second Spring, and Autumn).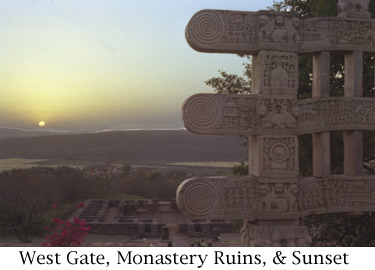 But back to my tale, after the sunset I found myself crawling and sliding down the hill the stupa is on. I did not take the front road up, but parked my bike on the back side of the hill and climbed up it, roughing it. Then I found myself in a local village with the village priest offering me prashad (blessed food) at his temple. Perhaps because I am a foreigner, or because it was time for evening temple services, I was surrounded by villagers, farmers, and their children. We shared a dried coconut (delicious!) and I spoke in my usual broken Hindi until it got so dark I had to ride my bike back home with one hand on my flashlight, thumping over a dirt road with stones in it. (Which was another fun adventure). That night I slept at a Buddhist Dharamshala, or guesthouse, where I shared a bathroom with monks who had come for a short stay, probably for religious travel to see this ancient site of Buddhism.

---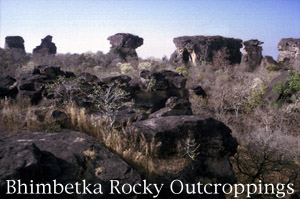 The next two days I spent in and around Bhopal. The first day I went to Bhimbetka: An awesome setting of dark rocky outcroppings beautifully tearing through the Utah or African-like scrubland and making a striking complex of pinnacles against the sky. After a 3 kilometer hike up to these rocks, I visited the shallow caves used for living quarters by numerous ancient peoples. These 'caves', really open-air shallow rock coverings, are famous for their ancient cave paintings, some as old as 15,000 years ago! Like those in Africa, America, and France, they represent early art of Man. Many here are newer, however, and these show different occupation periods of the same site by different cultures with different artistic styles! I hiked around for hours and meditated in the hot warm caress of the sun and rock. Later I climbed up to the highest easily mounted pinnacle and was treated to a 360-degree view for miles of beautiful scrubland, hills, rock, and in one direction the railroad and farmland beyond.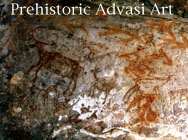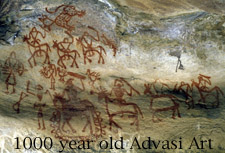 In Bhopal itself I visited a museum of both modern art from India, and traditional Indian "Advasi", or Tribal, artwork. In India, as in the USA and Australia, there are indigenous tribal cultures with their own language variations and ethnicities who do not fully participate in the modern aspects of the Indian country. They do create handicrafts and farm. They are visibly part of the tourist industry and economy because their handmade goods are sold in marketplaces. They fill a "hinterland" function in many states of India, living and producing in areas farther from cities, road networks, and electricity. However, as a group they may be more respected and better treated than Native Americans in the USA are.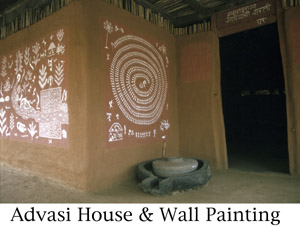 To learn more about the Advasi (tribals) I also ventured into a huge outdoor museum on a hilltop, sprawling for acres with samples of native lifestyles spilling down a slope to a lake. The government has recreated housing from 20 Indian states and over 35 tribal groups. There is a 'desert', 'seaside', and 'inland village' groupings, each with beautiful houses of all different styles, with religious/devotional/mythological artwork depicted on the walls which was painted by Advasis invited by the government to officiate these complexes.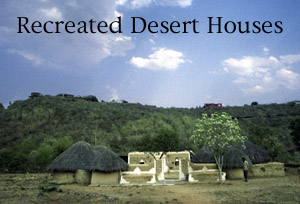 Unfortunately there are not enough signs, directories, or knowledgeable people around, and it feels rather like a ghost town. Walking through and exploring it was amazing, but I hope more life will be brought to it in later years. It is a relatively new project, and I imagine if I were a schoolchild with a knowledgeable guide and my class visited, I think it would be a great experience! One highlight, for example, were the racing boats from seaside tribal towns. They were so awesome to see, high quality wood, hand fashioned, all painted black, sleek, and 150 feet long! Overall, I loved it and feel like I have been 'all over India' again, recognizing some styles from the Kutch where I was and Orissa where I also visited a village.


---
From Bhopal, the day before Holi, I took an overnight train to Nasik and shared my train car with a kind family who befriended me. Nasik will be the site of a 2003 Kumbha Mela, smaller, but similar to the Maha Kumbha Mela I went to in 2001 in Allahabad. Nasik is therefore one of the 4 holy pilgrimage sites in India related to the "Kumbh" myth of Gods spilling their nectar (amrit) in 4 locations as they fought devils (ashuras) for this nectar.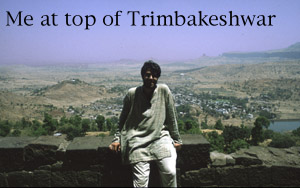 My travels took me to a sister-town 30 kilometers away at the source of the holy "Ganges of the Deccan" the Godavari River. There I hiked up 1008 stairs and received water from the mountain spring which is the source for this river. I also went to Trimbakeshwar, a Temple in which is one of India's 12 "Jyotirlingas", or naturally occurring stone forms shaped like and revered as Shiva-Lingas. The other few I had an opportunity to visit I was denied entrance to because of my non-Hindu birth, but by now my skin is darker, my accent better, and my devotion ripened, so I went in to this one without any problem received darshan of this sacred linga.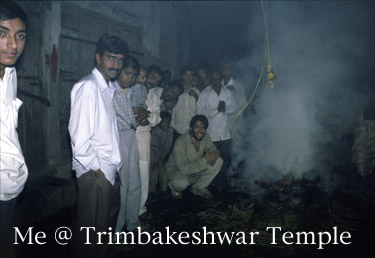 That evening, after visiting many famous temples, I went to dinner and then explored the city in which the evening of Holi (Spring holiday) was imminent: they were building pyres of cow-patties, with bamboo or another plant shoot in the middle, and hay for lighting. These towers are called, appropriately enough, "holi" and are lit the night before the day of Holi. I was invited to honorably light the fire of one with a group of men and boys who befriended me, so I circumambulated the holi 5 times, said a short puja, and ignited it. They bought me a coke, and I felt awkward, but you can't refuse hospitality! One of the boys invited me up to his roof and I saw holi fires all over the city. It was a beautiful evening, and the men all spoke with me as much as my Hindi would allow.

Unfortunately in Nasik and Ujjain, for some inexplicable reason left to the tradition of ancient times, Holi color fights, (spraying dyes on people) are NOT celebrated the next day, but rather 5 days hence. So, when I left that morning, still clean and un-colored, I was upset when I arrived late in Aurungabad and discovered that everyone was drunk, sleeping, high, and/or already colorful, the time was past for playing with dye. Luckily after checking into a nice hotel, I encountered a mildly drunk friendly man on a motor-scooter who took me with him to his friends, lazing away the afternoon in the shade of a house. But one conspicuously looked as clean as I. Therefore we exchanged colorful dyed water and powder until we both were quite done and looked like everyone else, purple and green predominating over our skin and clothing. It was then that I realized I had better go home and wash off my passport and money belt before it all became stained!


---