---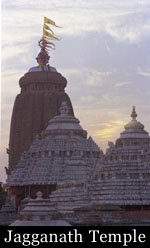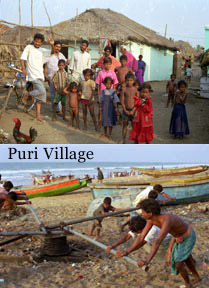 On my next leg of journeying I visited the "golden triangle" of tourism, three famous places within equidistant driving distance of each other. First I flew to Bhubaneshvar and immediately went to Puri via taxi. In Puri I confronted the Jagganath temple: This is a Huge temple to an Incarnation of Vishnu as a very colorful funny-smiley-faced-dude. It is particularly South Indian in style and scope, and very spectacular, but I cannot enter the temple as I am not a born Hindu. Nonetheless I befriended a Bhramin Priest who (for a fee) got me prasad (blessed snack) from Jagganath. I was also able to view the temple from the roof of the local library, (again for a fee). I also went shopping and bought my mother gold earrings and bought myself sandals: no longer must I bear the burden of shoes!!! [Note: Jagganath may sound familiar, the English word Juggernaut comes from this temple name! ]

That next morning I rented a bicycle for only 10 rupees (25 cents!) and rode to a village on the beach. There I met locals, including one who speaks English, Hindi, and Oriya (the local tongue). As the sun rose, the fisherman took boats out and women walked back with fish on their heads! I took some photos and even helped them bring in a boat by pushing a winch with iron bars turning it to bring the boat in slowly by coiling metal rope. It was hard work, but I enjoyed working and communicating with local people, it is the people of India that have made my trip so fantastic, each person I interact with blesses me a little!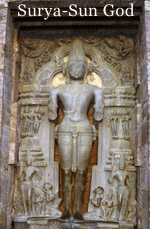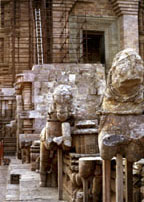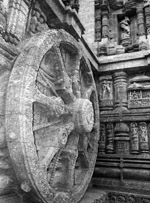 That day I went 40Km (22Miles) to KONARK the small village around the Sun Temple - a beautiful, decorated, huge temple in the similar tradition of Khaujuraho with erotic couples and much decoration including elephant-headed dragons!! The 10th-century temple is dedicated to the Sun-God, and is designed as though it were a chariot, with 12 wheels, pulled by 12 horses. Very amazing! I highly reccommend it as a tourist attraction.

This sleepy town was the perfect place to rest and take a bike 4km to the beach and hang out with locals again. Unfortunately they kept shamelessly asking me for my watch, sunglasses, cigarettes, and rupees, but I ignored this and just talked with them and enjoyed the shade under a makeshift thatch roof on the seashore. I also saw neat sea animals, like little conch shells with snails living in them in the tides ashore. No One was swimming, so I didn't either, I just sweated more and more in 85 degrees of heat and humidity. So, to escape it the next day I went to 92 degree heat and 80 percent humidity in Bhubaneshvar!!

Despite the hotter-than-hell weather, I once again visited Temples although I was getting "Templed out". Luckily I went into a quiet 1,000 year old temple inside which was a brahmin priest who recited Shiva puja and prompted me to repeat word-for-word after him. This was special treatment, and afterwards I spoke some Hindi and he some English. He told me I was one of the most sincere spiritual seekers he has encountered there. (However, it is a tourism spot and not a popular temple by the Hindus of Bhubaneshvar who mostly go to the Huge Lingaraj temple and others, this one is more like an archaeological site). He predicted that someday I will have spiritual followers if I continue in my path, and I just met him! What a character and sincerely nice brahmin.

I also saw 200-400-year-old palm leaf manuscripts and paintings. Orissans used these for holy texts and illustrated them, all on these little tiny rectangular dried leaves, not unlike Egyptian papyrus. This concluded my tour of Orissa, the state straddling both North and South India on the Bay of Bengal. It was beautiful, with palm trees and beaches and great locals.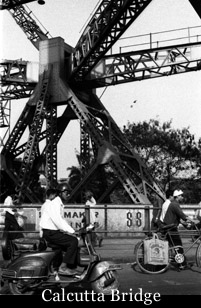 Next I flew to Kolkata (was Calcutta) and explored my hotel neighborhood at night. The next day I rode in India's first underground metro-subway, it was efficient and cheap - 4-8 rupees (10-20cents). Kolkata was fine, but it was a city and I am sick of cities where I have to wear my pollution mask. Anyway the best thing that happened there was that the Kali temple, for Hindus only, allowed me in! I spoke only Hindi to a Brahmin, and he brought me in to where I repeated a puja (prayer) after him, and was blessed by Kali! This experience was excellent, and I felt very privileged to have that darshan despite my non-Hindu birth!


Then I flew yesterday to Mumbai/Bombay. The only thing worth relating is that I had a hankering for food and walked into McDonalds last night to try their McVeggie Surprise - it was surprisingly good! While in there I met the manager and spoke Hindi to him, he was very impressed and we became friends. Then he treated me to a SoftServe - yummy pineapple flavored frozen yogurt enjoyed in air conditioned McDonalds may be as far from typical India as one can get in Bombay - but actually Bombay is the most cosmopolitain of all Indian Cities

One interesting discussion we had wasIndian wages, starting rate at McD's is 14 rupees and hour, 70Rup's for higher ups. That's a quarter and a buck-fifty in US dollars, respectively. However, at 14 Rup's they cannot afford a happy meal (50Rps) on an hour's wage. This is unlike the USA where minimum wage workers *can* afford happy meal on an hour's pay. In India, and many other countries, McDonalds is more expensive than cheap food. In India McDonalds is medium-quality food compared to other food in India, whereas in the USA it's comparatively low quality, the only thing lower is hot-dog vendors ;-)

So... anyway he highly recommended I see Lagaan the Hindi movie many others have recommended I see, and it is up for an Academy Award!!! So I did just that today. For 3 hours I sat in an AC theatre balcony seat. (In Indian theatres you pay a different rate for better seating!) It was a great movie, and this I grasped with my limited Hindi knowledge, and no subtitles! It was a new experience to see a foreign film in entirety with no subtitles, thankfully I knew enough bits of Hindi, the acting was well done, the story simple, and some characters (the evil British) spoke some English sometimes!

Tomorrow I fly to Bhuj - the Pakistani border in Gujarat in the great Rann of Kutch (desert) to see archaeological sites and local tribal peoples, it will be hotter... but NOT HUMID!!!
---