---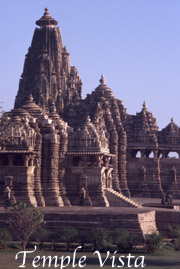 I'm tired and I've been ALL OVER INDIA: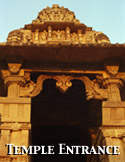 Last week I was in Jabalpur, the exact center of India (Geographically), and tonight I am in the Economic Hub, Mumbai (BOMBAY). Just last night I arrived from Kolkata (CALCUTTA) -- in fact in the past 8 days I have been to seven municipalities: Rishikesh, Delhi, Bhubaneshvar, Konark, Puri, Kolkata, and Bombay! *phew*!

But to start from the beginning, (and not get too lost in thought), two weeks ago I went from Jabalpur to Khaujuraho over the worst roads I have ever traveled on. I'm talking about flood-washed out, rutted, potholed, dirt roads. Where the bus levitated and our heads hit the ceiling. This unpleasantness, however, was surmounted by a hotel in paradise: at Khaujuraho.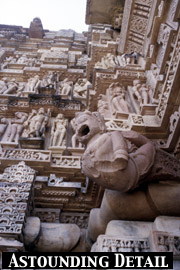 This city exists entirely for tourism, beside a small native village, the main (and only) attraction, is 24-odd amazing ancient temples. On these temples, every square inch inside and out is an intricate work of art (and a lesson in the kama sutra). In fact, these temples are renowned for their erotic figures, but many are not easily spotted without a guide to share them as they are just part of such a multitude of eye candy. Each temple holds an astounding variety of details! Imagine going to a museum and seeing sculptures all over each other in a huge pile and trying to identify which are gods, which are men, and which are amorous couples.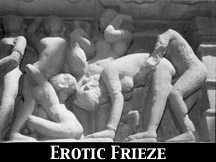 Anyway, its beautiful and amazing beyond the scope of photos or description. (But I'll try anyway).

I woke at sunrise and visited all the temples, by way of a car I hired all morning. This journey by myself was rewarding, as I shot 4 rolls of film and really enjoyed the quietude of nobody else around during these early hours. Later I stopped back at the first main temple compound and saw it overcrowded and boilingly hot. I opted for an hour by the hotel pool and a shower before lunch! The just rewards of an early start.


---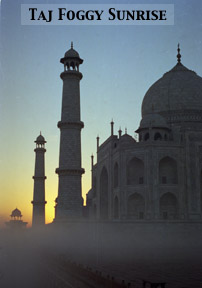 The very next day (we left that night) I saw the Taj Mahal at sunrise! It was magnificent, but I really liked the temples better, maybe because they surprised me and had detail, but the Taj is kinda "there" and once you see it, you've seen it. Of course, it is worth a visit! wow! That same day after Agra I took a train to Delhi and enjoyed an archaeological conference, meeting important people in my field of archaeology and then meeting the MUM Fairfield group at the Hans Plaza Hotel in Connaught Place, New Delhi.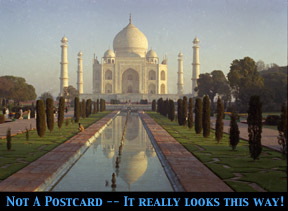 Over the next 4 days The tour group from MUM went to Haridwar and Rishikesh . These places are pilgrimage sites and primarily spiritual-minded tourists visit them (unlike the Taj Mahal and Khaujuraho). These places are filled to the brim with all different versios of spiritual paths, from Brahmachariys (Chaste Renunciation) to Tantric Sex, from Meditation to Yoga, and many large scale ashrams including the ISCON (Internation Society for Krishna Consciousness - Hari Krishnas).

It was nice to be at both places and see the Aarti (a fire offering ceremony) to the Ganges holy river, which we also bathed in and even went WHITE WATER RAFTING IN!!! The latter was a great break from my usual tourist fare, and we stopped at a rock cliff for chai break and cliff diving into the Ganges. It gave me a new perspective on the river, coming down from the Himalayas in a rocky rapid basin, twisting and churning clean glacial meltoff, not yet over-polluted by Indian cities.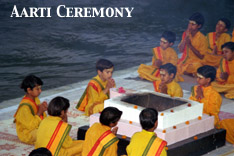 Anyway, I wish I could more clearly remember why I like Rishikesh so much, it just felt 'nicer' than the rush of cities we had been in since Khaujuraho. I ate separately from the MUM group, enjoying Mukti's. MuktiÕs is a small place where the healthy vegetarian food is cooked fresh to order from scratch with love by Mukti and his wife. My father went there last year and took photos of Mukti, I brought these to him and he said he may remember my father after seeing my family photos! A Shopkeeper my father relied upon for jewelry, artwork, and books certainly remembered him and gave me a discount, and I continued the family tradition of supporting his business. Of course everything I got seems beautiful and unique, so they will make great gifts, but I may have overdone it by now. I may have more gifts then friends, we will see when I get home and unpack.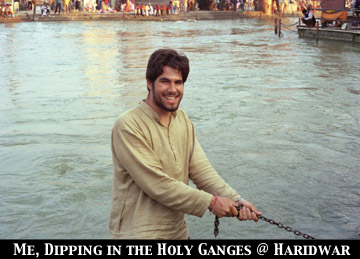 After Rishikesh I spent a day in Delhi saying goodbye to the MUM group which had become a family unit in India. Our goodbye banquet followed the day after we had a personal videoconference with his holiness Maharishi Mahesh Yogi. This was a unique blessed opportunity which seems surreal in hindsight, I mean I have seen him on a TV screen before, but never live actually interacting with us - We all felt his presence and it was a very special gift of his to grace us with his presence and listen to us share how much we enjoyed India in a final project presentation. (Most of the group was in a class-for-credit through MUM).

This ended one phase of my travel in India (with groups) and Inaugurated the next: My solo sojourn for three weeks.
---