I had 10 & 1/2 days and saw 6 separate cities/regions. My friend Paisley, another NYC teacher, met me in Cairo and we traveled together. We decided to forgo organized tours and booked everything ourselves. To get around we traveled by bus, train, taxi, plane, horse, camel, mule cart, ferry, felucca (boat), and yacht.
---
Day 1 and 2: Cairo
---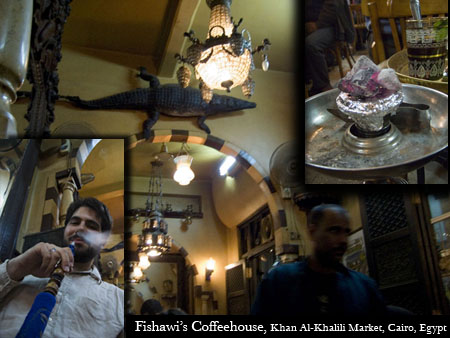 The first afternoon we spent getting settled, we ate our first of many falafels and had an Egyptian Stellas Beer, and booked our domestic flights. Cairo reminded me of a mixture of Istanbul, Morocco, and Bombay.

The next day I hit the Egyptian museum, explored the Cairo Subway-metro, and booked train tickets. The highlight of Cairo, however, was touring Khan Al-Khalili. This local market had narrow alley-streets, hawkers, and merchandise galore! In an antiquities store I bought old coins from Libya, Iraq, and other Middle-Eastern countries. In the marketplace we smoked sheesha (flavored tobacco) and drunk tea at Fishawi's Coffeehouse, which Lonely Planet describes as "open continuously for the past 200 years". It was decorated ceiling to floor with mirrors and knick-knacks including a dead crocodile.


---
Day 3: Pyramids
---
We hired a car for the day and toured all the pyramids in order of their construction: Saqqara's Step Pyramid, the Bent Pyramid (where architects learned what angle works to build a pyramid, after it almost collapsed from stress), and then the Red Pyramid (first true pyramid). Finally we toured Giza and Cheops' pyramid. I climbed inside and explored some pyramids (cramped, hot, humid, but exciting), but really rushed around a lot enjoying and photographing them. One of the highlights was riding camels to the pyramids at dusk.
---
Day 4: Aswan
---
After an overnight train during which I had a 101 degree fever, We arrived in Aswan, a Southern Egyptian city at the end of the railroad line and the beginning of Lake Nasser. Aswan, famous for the Aswan Dam which tames the annual Nile floods and provides hydroelectric power. The highlight of this half-day tour was taking a felucca across the Nile and exploring a "Nubian Village".

Although partially inauthentic, the village was interesting. We enjoyed the architecture, but found the villagers to be entirely fixated on our wallets. The first child we saw asked for baksheesh (bribes) to be photographed, and when Paisley complied, the mother brought out her barely-upright 1-year old and instructed him to ask for baksheesh as well. We bore witness to the training of the next generation of urchins!


---
Day 5: Ancient Egyptian Luxor
---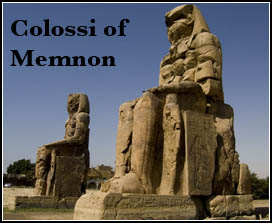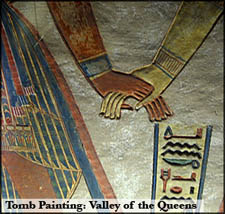 That same night we took a train to Luxor and by midnight had booked a room and a tour for the next morning. This was the 'day of tourism' -- Paisley and I went to The Colossi of Memnon, The Valley of the Queens, The Valley of the Kings, a village alabaster workshop-store, and Queen Hatshepsut's (reconstructed) temple. Paisley returned via the tour bus, but I stayed behind and explored Dier Al-Medina, Medinat Habu Temple, and the Luxor Temple, returning to the hotel exhausted after dark.

Valley of the Queens: Amazing preserved wall-paintings inside modest-sized limestone-cave-cut tombs. Must-see!

Valley of the Kings: Huge tombs, most robbed in antiquity, with intricate decorated ceilings and walls, most absolutely humongous. King Tut's, however is tiny and modest by comparison, hidden underneath a larger tomb, thus it escaped discovery. It had a separate entry fee, and was not much to see, but it was the only tomb I entered that was silent and calm. It was a little eerie, but also peaceful and therefore instilled respect and awe different from the tombs that were overly-crowded with throngs of tourists loudly parading in and out.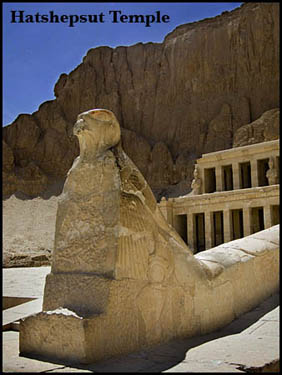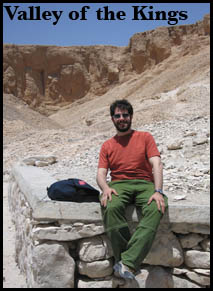 Alabaster Workshop: I enjoyed seeing the traditional manufacture methods demonstrated, although this show was plainly intended to increase sales.

Hatshepsut's Temple: Beautifully reconstructed by the Polish Archaeological Mission, imposing and decidedly beautiful, but not necessarily a must-see.

Dier Al-Medina: Archaeologically invaluable, but touristically negligible. I studied this site in every class I took, it housed a literate force of workmen employed by kings for building the nearby tombs. Their wives and kids lived with them so it was a small-scale functioning village. It is unique because all the boys, men, and a few women learned to write as scribes. This high literacy rate permits archaeoloists to know every household's occupants from recovered scrap 'ostraca', a pottery or stone fragment inscribed with words. These notes include practice writing, diaries, letters, wishes, and hexes. Indeed, many reveal petty incidents, gossip, and indictments of adultery and murder. The study of the social life of Ancient Egyptians is indebted to this evidence. Plus, it was awesome to see the architecture of the houses!

Medinat Habu: A beautiful mortuary temple built by Ramesses III. Incredible, heavily decorated on every surface, definitely worth a visit.
Luxor Temple: After a sunset ferry ride across the Nile I visited my last temple of the day, and although filled with tourists, the nighttime lighting provided lighting variations more interesting to photograph than a daytime visit.


---
Day 6: One more temple, a livestock market, and photographing city life.
---
Karnak: This temple is the most incredible, huge, beautiful, tremendous! It includes a reflection pool (pictured here) and many sections of temple, including the largest hypostyle hall in the world ­ 134 towering papyrus-shaped columns. It was the religious "Mecca" of its day, built and added to by each king of the New Kingdom, a living temple for pilgrimages by Egyptians all over the land. It was built to showcase the awesome dignity of the gods and national religion, as well as to glorify each king. One of the most awesome sites in Egypt.

Livestock market: after my sunrise tour of Karnak, I returned to the hotel. Paisley, myself, and the Itallians we met the prior day went via cab to a livestock market 7km away on the town outskirts. It was a great experience because of the noises, sights, and photo opportunities. It was irritating when locals ostensibly there for their own business tried to haggle us for baksheesh or whatever else they intended, but it is nigh-impossible to be a bystander in this country when you have European complexion and a camera.

Luxor town: After lunch we walked through the city slowly, enjoying the 'real' life of locals, including barbers, hardware stores, and children playing. (see my "Faces of Egypt" exhibit for these photos)


---
Day 7: Sharm El-Sheikh
---
Our evening flight from Luxor to Sharm El-Sheikh on the tip of the Sinai peninsula was interesting because our tickets were not confirmed and we were told we might not be able to board the plane. Boy was I frustrated! Finally with 20 minutes to takeoff we were told we could fly only if we upgraded to first class! Luckily this was only $20 US each (20% of the ticket price).

I wanted to scuba dive in the Red Sea, but Paisley didn't, so she stayed at the hotel and hit the beach while I boarded a yacht with other tourists and skirted the Sinai coastline all day. The water quality was terrific, the color unbelievable and I had a blast! Unfortunately my dives were just added to an itinerary for traveling pleasure-cruisers on the same boat. That's what I got for last-minute planning a cheap dive experience. Amazing nonetheless!


---
Day 8: Dahab and the Bedouins
---


We took a night bus to Dahab, and the next day arranged a tour of the Sinai Desert with Bedouins. This was one of the major highlights of the trip. Our ride dropped us off in the middle of the Sinai Desert. Then a Bedouin in a jeep met us and took us a few rough miles to a small Bedouin village: just a few buildings, some women, and kids.

The Bedouin women received us with joy and a bundle of very excited children. We were told to bring candy, and Paisley administered the sugar with grace. Children happily sucking lollipops followed us into the shade of a building, where we were served fresh hot sweetened tea and shown handicrafts to buy. It was not pressured salesmanship like at other places, though. In fact the whole time at the Bedouin village was filled with a very relaxed, almost boring air. We had SO much time until our pick up and really NOTHING to do!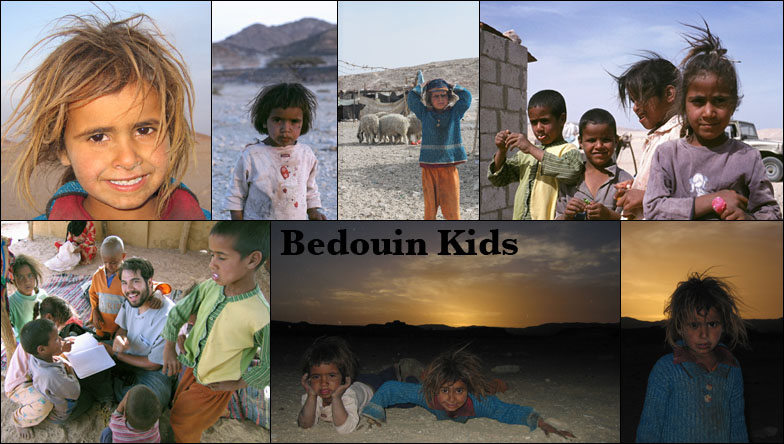 We filled the time playing with the kids, I drew pictures for them and watched them practice drawing. We took many photos and Paisley bonded with a camel. There were a lot of flies in the shade, the kids were cute but a little strange; dirty is an understatement.


Later we took a little hike out to some ruins. Paisley walked back first and I returned as the sun set. We were then served dinner in the dark peaceful desert. We ate a traditional Bedouin vegetable stew and a chapati-like flat bread. The night sky was pitch black bespeckled with stars, and it was so quiet. The flies were all gone. We were bored and nobody spoke English, so we played gin rummy with Paisley's cards by candlelight, waiting for 8:30 when we could go back to the road. It was interesting to see some moths fly into the candle and burn. I had never seen 'like a moth to the flame' literally illustrated before my eyes. Really evolution is strange.



As odd as it was riding a Jeep in the desert at 9pm, Our other driver did return and bring us back to civilization. The sad part of the otherwise joyful experience is that Dahab, a sweet city we really enjoyed was bombed only a few days after we left. In fact our friend was there and luckily was unharmed but wrote us an email and let us know he carried dead bodies and helped out after the blasts.


---
Day 9: Traveling and Alexandria
---
Most of the day was spent in a minivan taxi, an airplane, and a bus, traveling from 5am until 5pm. Dahab-to-Sharm El-Sheikh-to-Cairo-to-Alexandria. In Alexandria we enjoyed the Mediterranean air, the modern "Library of Alexandria" (Truly magnificent), a fresh fish restaurant (Possibly the source of my food poisoning), Sheesha with Backgammon, and shopping!


---
Day 10: Feverish Travails
---
I was hatin' when I woke up and vomited. Then my 102 degree fever and general gastro-intestinal meltdown kept me from enjoying the wonderful experience of checking out of our hotel, finding the train station, and traveling 4 hours in 3rd class. The Tylenol I took helped, though and by 3:00pm I was engaged in a philosophical religious discussion with the educated Muslim man across from me who spoke English and German fluently. Yes, of course the Koran is perfect but the Bible has flaws, I see what you mean, sir. But the best part was when Paisley indignantly questioned him about the status of women in Egypt/Islam and he defended the women as 'choosing' to wear a veil and the appropriateness of having two wives in some cases (as long as the man treats them perfectly equally and loves them both). I tried to argue then, that a women should be able to have two husbands, and I backed up my point quite well, but we never saw eye-to-eye.

That night we shopped at Khan Al-Khalili again, and after midnight flew back. Although I got sick in both Cairo and Istanbul Airports, I arrived home safe and mostly well.

Hope you enjoyed the photos, and my reminiscences!
-Sam


---